ANNUAL PRE-ORDER
COUNTDOWN
Starting at $145 on the week of 7/24/17
~~~ $145 ~~~
5 Frame medium nucs
Wired natural comb in waxed nuc box.
No nuc box deposit needed, no frame exchange needed.
April 15, 2018 Delivery
EVERY MONDAY
THE PRICE GOES UP $5.00
UNTIL NOVEMBER 13th 2017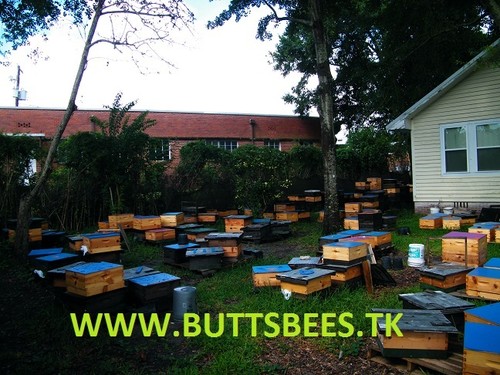 Just 2 miles off I-10 exit #61
5 FRAME MED. NUC / MATED VSHBH QUEEN / HYGIENIC / HONEY BEE NUCS APRIL 15th 2018
Orders are filled on a first come/first served basis.
We fill orders from our running list that begins in August for the following year.
WE WELCOME
USPS Money Orders, Paypal and Cash
"If we can't break the hive down without smoke and gloves
we won't use their queen"...... ButtsBees.
Selected for their
removal

of varroa infected drone larva and
aggressiveness

toward SHB
Small Hive Beetle FIGHTERS (As long as you aren't poisoning them with smoke)
We keep a 200+ apiary with NO SMOKE!
Our 'VSH
x Survivor' breed is of Southeastern U.S. stock, bred from three different genetic sources of 'VSH' against
'Survivor' colonies from the late Julius Russells' 'Sunkist'.
Any queens showing unexcused aggressive behavior gets pinched without delay!
**STATE CERTIFIED APIARY**
***********
Taylor T. Butts & Susan B. Butts
buttsbees@yahoo.com
512-887-8133
Thank you
ButtsBees
WE ARE VERY BUSY SO BE PATIENT.
ButtsBees
Stock Lineage
Julius Russells' 'Sunkist' fall 2010
Sunkist x Sunkist, spring/fall 2011
Sunkist x VSH*, (*LSU @ Baton Rouge sourced) spring/fall 2012
Sunkist x VSH*, (*LSU @ Baton Rouge sourced) spring 2013
Sunkist VSH x Pol-line*, (*Bob Harvey sourced) fall 2013
Sunkist VSH x Pol-line*, (*Bob Harvey sourced) spring 2014
Sunkist VSH Pol-line x Sunkist VSH Pol-line, fall 2014

'ButtsBees VHS/Pol-line Survivors' 2015

'ButtsBees VSHBH/Pol-line Survivors' 2016 (Varroa Small Hive Beetle Hygienic)

'ButtsBees VSHBH Survivors'

We open breed in saturated areas that we have 'seeded' with swarms to establish the feral colonies genetics. We keep swarming hives of .45cuft. that promote swarming. In 2010/2011 we released the 'Sunkist x Sunkist' at 5 colonies per kilometer for 30 km2. The release was on an isthmus and well isolated. We have since continued this method using VSH/Pol-line genetics with apparent success in noting strong VSH in observed feral colonies.
Worker cells; 4.5mm
Drone cells; 6.mm
Calm bees

.

Fast Build

.

Real SHB fighters

, (We tend to notice this behavior with the queens showing strong VSH/Pol-line traits and with smokeless management).
We are heavy handed on culling when unexcused aggressiveness is observed and those without strong hygienic behavior.
"............That's NOT a spotty brood pattern, it's VSHBH Hygienics. They are cleaning your infested brood!"